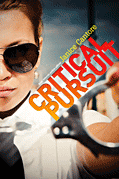 Officer Brinna Caruso has built a reputation at the precinct as the cop to call when a child goes missing. For Brinna, it's personal because she was once one of them. Brinna and her K-9 search and rescue dog, Hero, will stop at nothing to find a missing child, no matter the stakes.
Detective Jack O'Reilly isn't ready to return to his homicide duties, after losing his wife to a drunk driver. He's on the downside of his career, and bent on revenge, when he's assigned as Brinna's partner. While on patrol, Jack struggles between his quest for personal justice and his responsibility to those around him, especially his partner.
Skeptical of Jack's motives, Brinna isn't sure she can rely on her new partner, whose reckless abandon endangers the safety of those around him. But when a man surfaces with an MO similar to the criminal who abducted Brinna twenty years earlier, Brinna and Jack must cast aside previous judgments and combine efforts to catch the kidnapper, and finally allow Brinna the peace stolen from her as a child.
I was on pin and needles as I waited for this book to arrive. As soon as it arrived, I read it hungrily. I loved the action that put me in the driver's seat. I seem to have picked up an interest in crime thrillers and TV crime shows. I love the excitement as well as the work of the detectives as they try to find the guy who did it.
I highly recommend this book to anyone who likes a good crime thriller.