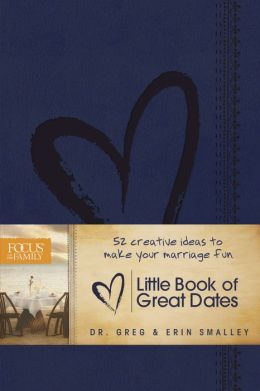 The Little Book of Great Dates
will help build romance and fun into any marriage with its creative ideas for a year's worth of weekly affordable dates. This book—a simpler, gift version of Focus on the Family's The Date Night Challenge campaign—will help couples to proactively and intentionally build their relationship, showing how everyday activities can become "dates" that strengthen the marriage relationship. It includes plans for special-occasion dates, such as the couple's anniversaries (first date, engagement, wedding), birthdays, etc. Couples can get to know each other better by sharing fun times and discover dating again in their marriage with this great little book of ideas!
I read this book and learned some great ideas for the future. It has ideas that I've never thought of. My dad thought the book was weird and read a few pages. He put it down because he thought romance is supposed to come natural and not taught through a book.
But you can always be inspired from a book. You don't necessarily have to go step by step by the book.
So I suggest this book for all the men or women out there who needs some romance in their life!