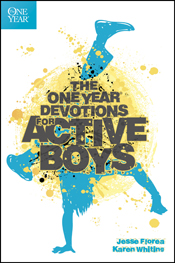 Have a son who can't sit still during family devotions? Now they can! Featuring the one and only: Devotional for Active Boys!
Each devotional is geared towards how boys think! There are brain teasers, jokes and even exercise drills for busy boys. And if you have an active daughter, this book will also work.
The devotions help boys find how real people interacted with God and help them discover solutions to contemporary issues. Each devotion will help guide a young man in developing a lifetime habit of learning from the Bible. These themes include making good choices, discerning God's will, using good and uplifting language, avoiding temptation, choosing good friends and many more topics.
I got this book from: Tynadale