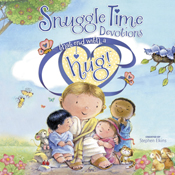 This heartwarming devotional is so cute. All the illustrations are soft and friendly. It's not to say the pages are soft, but the illustrations are meant for toddler-aged children when they are mostly bonded with either a parent or a grandparent.
There are little stories inside with a little Bible verse. On the next page, they have an activity for the child that relates to the story. Then parents or grandparents can tell their little one something from Jesus and it ends in a hug.
Children whose love language is physical touch would love this devotional book and the hugs that come with each bedtime story.
This book will get you and your child talking together, laughing together, and hugging together! It's a great way to strengthen your parent-child relationship while introducing young children to the joys of spending time with God. It's also an effective resource for helping to shape behavior and for teaching kids biblically based life principles.
I got this free book from Tyndale Blog Network!