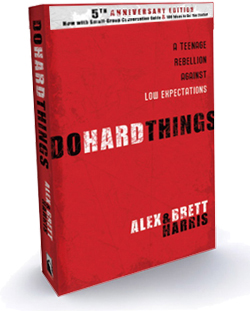 I think that young people these days are prone to make excuses or give up too easily when something hard comes around.
Even though I teach 8-9 year olds, I still see the lack of resilience that is forming from their home environment to avoid and run away from the problems rather than facing them head-on.
Written when they were 18 years old, Do Hard Things is the Harris twins' revolutionary message in its most compelling form, giving readers a tangible glimpse of what is possible for teens who actively resist cultural lies that limit their potential.
Combating the idea of adolescence as a vacation from responsibility, the authors weave together biblical insights, history, and modern examples to redefine the teen years as the launching pad of life and map a clear trajectory for long-term fulfillment and eternal impact.
Written by teens for teens, Do Hard Things is packed with humorous personal anecdotes, practical examples, and stories of real-life rebelutionaries in action. This rallying cry from the heart of revolution already in progress challenges the next generation to lay claim to a brighter future, starting today.