This book was so cute. The illustrations are just for children. When I opened the book, the stickers attracted me. I also liked the cute CD that it came with. Parents can just pop the CD into the stereo in the car or this book can be turned into a family devotional for toddlers.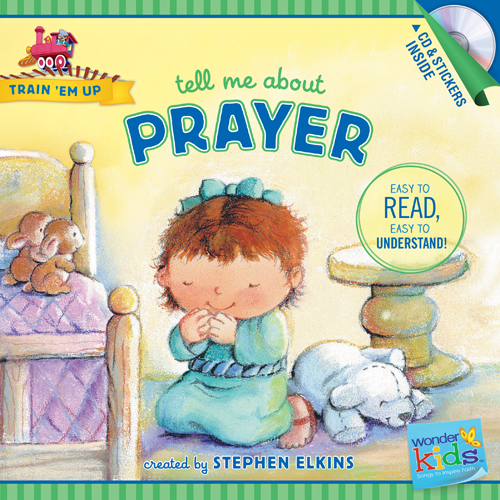 I am really excited for my future children because they will be able to understand prayer so much better and the pictures are also very appropriate for younger children. Even the explanations are geared towards younger children.
Train 'Em Up is an interactive, fun-filled, and affordable series that uses a train locomotive theme for teaching kids core Christian beliefs and principles. In Tell Me about Prayer, a friendly train conductor, Mr. Steve, teaches kids what prayer is all about, how we should talk to God, and why our conversations are so important to Him.
Through bold graphics and interactive songs and stories, Train 'Em Up makes it easy for parents and teachers to explain biblical concepts like prayer in a way that helps with attention, memorization, and recall while building a solid faith foundation. Each book in the series includes a CD with sing-along songs and narrated stories with sound effects, plus a colorful sticker sheet!